HOT RIGHT NOW
Conference Program released!
The Program for WAFA2018 Looking forward, looking back: Shaping the new norm is now available. Check out the range of inspiring keynotes and speakers here and head on over to the Conference page to find out how you can register!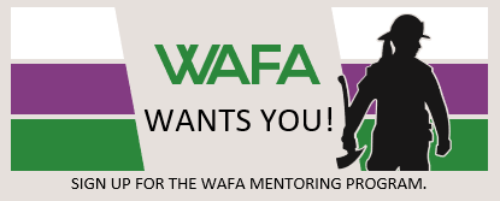 WAFA Mentoring
The WAFA online mentoring program is here! If you're a financial member of WAFA and you're interested in participating as either a mentor or a mentee, then download an application form WAFA Mentoring Program. If you have any questions regarding the program check out our WAFA Mentoring FAQs. For further enquiries please email: mentoring@wafa.asn.au
Applications have now closed
August Newsletter
The 2018 WAFA Conference in Wellington is just over a month away!
Check out this latest newsletter packed full of conference updates, speaker profiles and our WAFA Wellness segment!
Registration for the Conference is still open!
Click here for the link to the booking site and for all the info.

NSW Rural Fire Service OpO Level 2
The NSW Rural Fire Service is pleased to announce that it will be releasing further rounds for Operational Officer Levels 1 & 2.
The recruitment schedule for 2018 is as follows:
OpO1 Closing 12 March 2018
OpO2 Opening 12 February, Closing 22 April 2018
OpO1 Opening 12 March, Closing 17 June 2018
OpO3 Closing 5 August 2018
If you are interested in applying for an OpO role, please don't hesitate to contact opo.recruitment@rfs.nsw.gov.au, register at the webpage or click here for the state-wide information sessions schedule.
WAFA YouTube Channel Updated
Jump on, like our new videos from the 2016 WAFA Conference and subscribe to our YouTube Channel to keep up to date with future video updates.iversity
Jona Olsson Latir Fire Department New Mexico
Rhoda May Kerr Fire Chief Austin Texas
Alicia Welch Los Angeles Fire Department
Steve O'Malley Stepping Up and Standing Out as a Male in the Fire Services
Shannon Fentiman Minister for Women QLD
Bronnie Mackintosh Stepping Up and Standing Out
Kate Hill Stepping Up and Standing Out
Paul Baxter Chief Executive and National Commander NZ
WAFA 2016 Conference Hot Sessions Trailer
Gender Balance Overview
The Gender Balance Overview of Australasian Firefighters 2015 is a WAFA initiative to establish the current state of play for all Fire Agencies within Australasia. As a base we hope it will encourage Agencies to set statistical objectives for gender balance and, in turn, improve all diversity reporting.

The overview was compiled by one of the WAFA Board members. We will use it to measure progress going forward and hopefully build comprehensive and accurate data for our Recruitment and Retention strategies.

This overview includes both volunteer and career firefighters. Data was obtained from Agency Annual Reports and various documents tabled at AFAC.

Click the link on the right to download the presentation.

WAFA Gender
Balance Overview
Australasian
Firefighters 2015